BE BOUNDLESS
Give. Volunteer. Join your Muhlenberg community in supporting the Boundless campaign.
"Today you excel … because your experience here made you boundless. In keeping with Muhlenberg's 'pay-it-forward' culture, please give generously to this campaign. A new generation of bright and eager students will thank you."
— Doug Peebles '87, Tammy Bormann '83 P'16 and Mark Paris '80 P'16
Campaign Co-chairs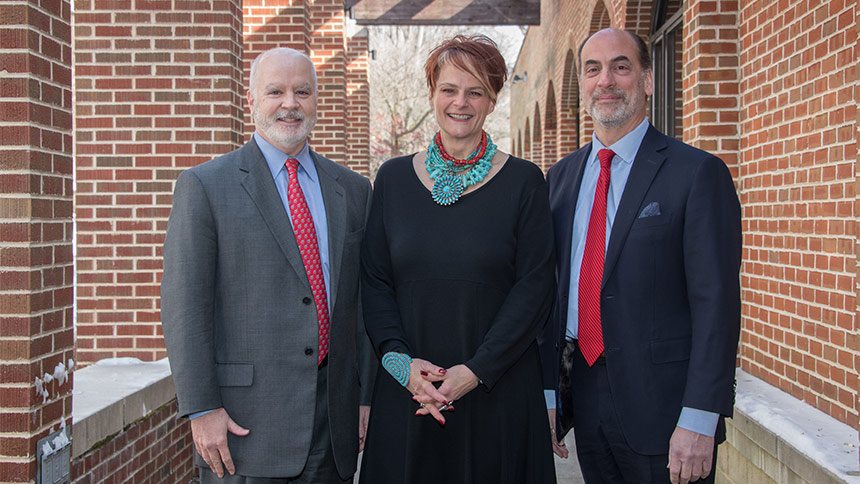 CAMPAIGN VOLUNTEERS
Thank you to these campaign volunteers for their generous gift of time.
Campaign Co-chairs
Tammy L. Bormann '83, P'16
Mark J. Paris '80, P'16
Douglas J. Peebles '87
Alumni Committee
Gerald A. Galgano '80, P'14, P'19, Chair
Stephen J. Hart '76
Eric H. Hildenbrand '00
Jeffrey D. Koehler '79
Mary Jane Depaul-Nehring '76
Blake C. Marles '74, P'02, GP'21
Marilyn L. Macknik Marles '75, P'02, GP'21
Robert E. Nehring Jr. '76
Amy E. Venuto '11
Annual Fund Committee
Richard P. Romeo '79, Chair
Mary F. Mckee Carnevale '84, P'14, P'19
Steven G. Carnevale '84, P'14, P'19
James Galgano '78, P'08
Samantha Unger Horrow '10
Joshua A. Lindland '98
Leadership Gifts Committee
Cynthia L. Crist P'05, P'09, Co-chair
Richard C. Crist, Jr. '77, P'05, P'09, Co-chair
Sandra L. Smith Bodnyk '73
Lance R. Bruck '89, P'21
Deborah Clay-Alston '98, P'14
Denise DiSimone '81
Gregory J. Fox '76
Malcolm J. Gross '62, P'94
Julie Pfanstiehl Hamre '72
Harold "Sam" Stovall '77
Karen White Wagoner '71
Parents Committee
Linda M. Speidel Cenci '75, P'06, Co-chair
Victor S. Cenci P'06, Co-chair
Lori Buchbinder P'17
Kevin Montgomery P'15
James T. Sullivan P'21
Mary S. Sullivan P'21
Planned Giving Committee
Diane R. Schmidt Ladley '70, P'01, Co-chair
John D. Ladley '70, P'01, Co-chair
Bruce A. Bird '77
Edward M. Davis, Jr. '60
Susan C. Ettelman Eisenhauer '77
Lona M. Farr '62, P'94