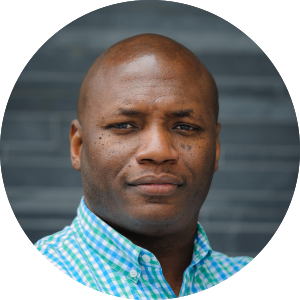 'LIBERAL ARTS WILL SAVE THE WORLD'
SHANNON GARY, Ed.D. '97
Associate Vice Provost & Dean of Students, University of San Francisco
"Puny." "Miniscule."
That's how Shannon Gary '97 describes his worldview as a youngster growing up in Philadelphia. "We were working class, bordering on poor. Going downtown was a huge deal. My world stopped at the edge of my neighborhood."
At Muhlenberg, that worldview "exploded."
"Muhlenberg was welcoming and friendly, nothing like growing up in Philly. At home, I had never interacted with folks who didn't look like me. Then my uncle drove my grandma's Chevy Cavalier to Muhlenberg to move me in with my wealthy white roommate. From day one, everything started to crack. As a young, Black, first-generation, gay kid, it was one of my life's turning points."
Rich campus experiences, including membership in the Black Student Association, rounded out his liberal arts education. "New friends talked about family vacations; professors talked about life experiences around the world. It was all new and gave me a capacity to see the possible."
His economics major led to an internship and first job with an investment firm, but it was his second major in psychology that shaped his future. His firm tasked him with recruiting new college grads, and "I loved working with students … I guess because campus life felt like home to me. Eventually, I guess I 'saw the possible' again and chose a new career in student affairs." Now, as dean of students at a major university, he helps students make the same eye-opening discoveries he did.
His message to those students: "The classroom gives you a credential. But what you learn in your extracurricular activities may be even more valuable—foundational building blocks like negotiation, compromise, collaboration, motivation. I tell my students, 'You don't know what you're learning yet. Ten years from now, you'll see what's really valuable.'"
Shannon jumped at the chance to give back to Muhlenberg by becoming the youngest member of its board of trustees. "I credit Muhlenberg for my ability to look beyond what's in front of me and see possibilities"—the very definition of boundless.
He continues to focus on the possible. "Today, our country is in an overdue fight for social justice. I truly believe it's the liberal arts that will save us. They teach the broader perspective that will bring us all back together."
JOIN OUR VISION
To help students become boundless, we must be boundlessly generous.