Through Boundless: The Campaign for Muhlenberg, the Fahy Commons for Public Engagement and Innovation was made possible thanks to a transformational gift from Gerald P. Fahy '79 and Cathleen A. Fahy. This three-story building opened January 2023 and features more than 20,000 square feet of student programming and academic space where key College divisions and programs facilitate connections among faculty, staff, students and the community. This new building clearly demonstrates the innovative thinking that is driving Muhlenberg College into the future.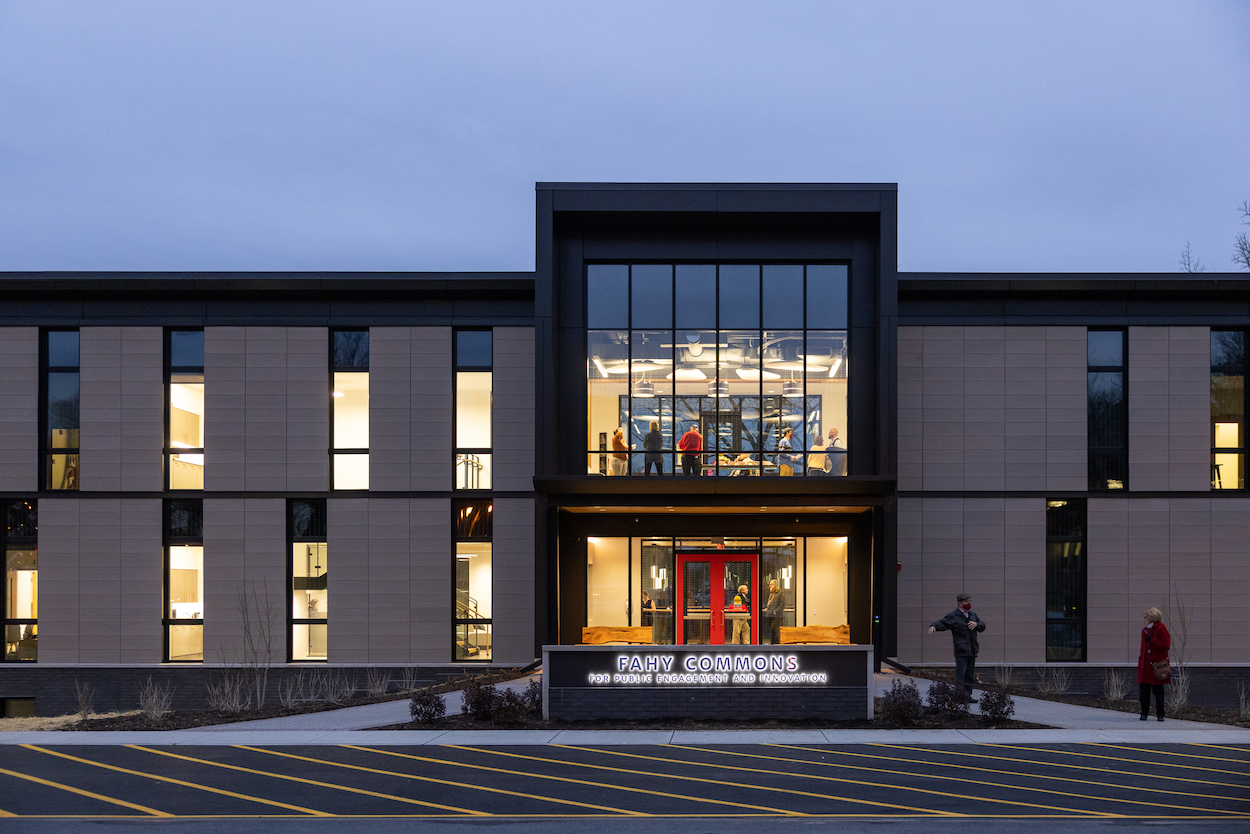 DEMONSTRATING THE COLLEGE'S FOCUS ON THE FUTURE
As the first new construction on campus since 2005, the environmentally sustainable Fahy Commons provides a timely opportunity for showcasing Muhlenberg's forward-thinking nature while serving as a clear symbol of the College's mission and values. The creative energy that already flourishes in the Dorothy and Dexter Baker Center for the Arts and the Trexler Pavilion for Theatre & Dance is felt in this nearby building, located on the hillside between Chew Street and Parkway Boulevard.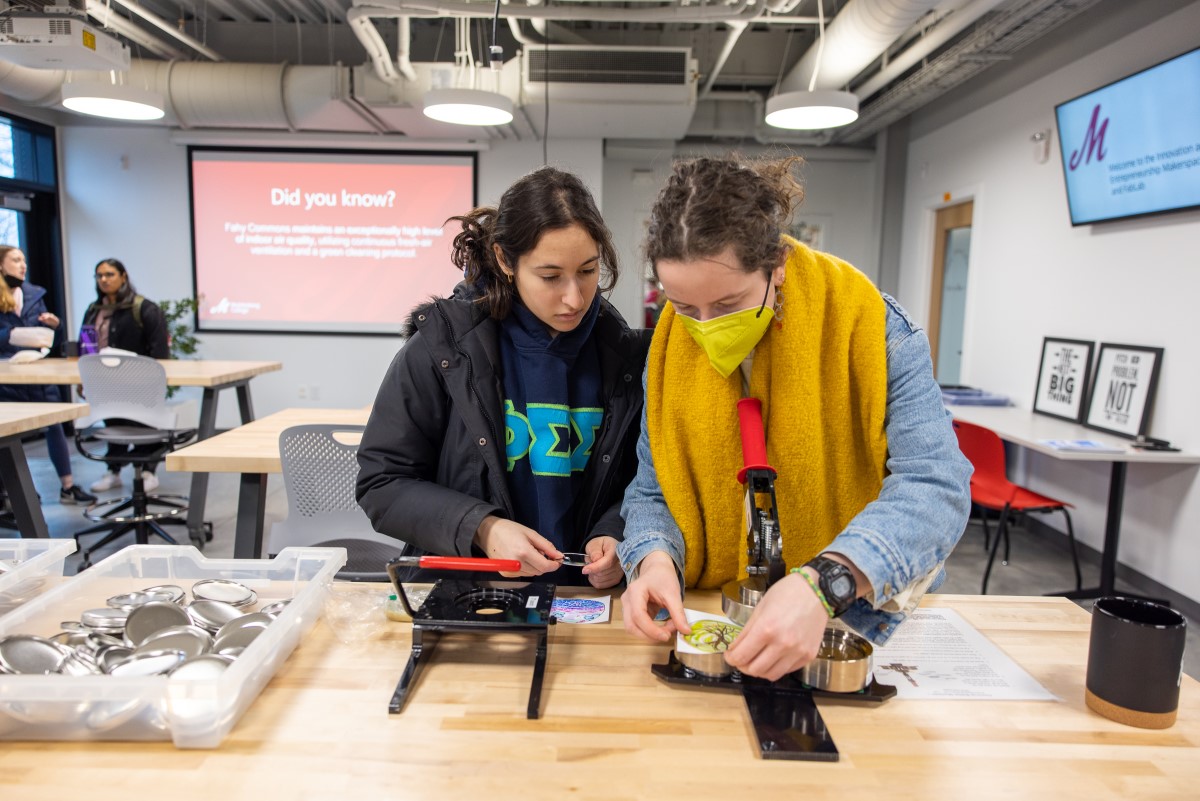 MODERN, PURPOSE-BUILT SPACE
Fahy Commons advances unique learning experiences via the:
Office of Community Engagement
Innovation & Entrepreneurship Program
Muhlenberg Institute of Public Opinion
Division of Graduate and Continuing Education
Religious & Spiritual Life
New Art Studios and Classroom Spaces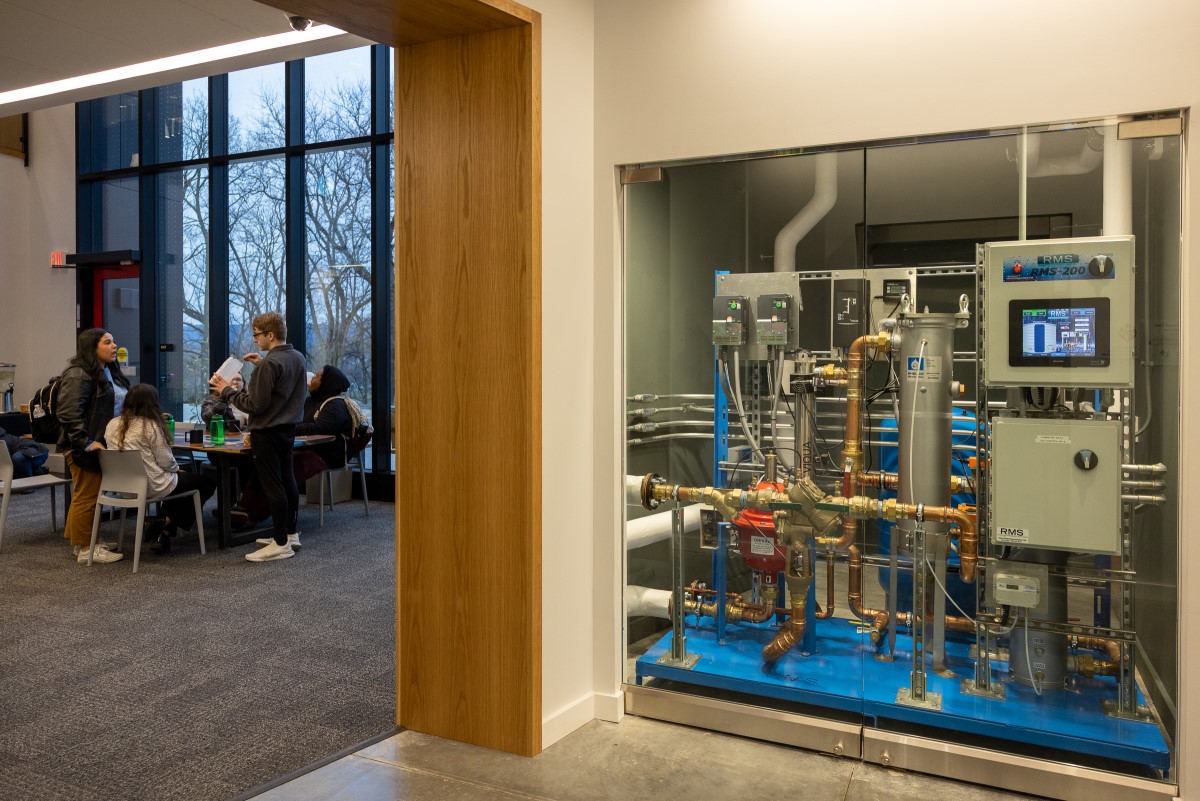 DESIGNED FOR SUSTAINABILITY
The facility uses 70 percent less energy than a typical structure thanks to rooftop solar panels, maximum insulation and efficient heating, cooling and lighting systems. Water usage is cut in half by low-consumption flush and flow fixtures as well as a rainwater recycling system.
Covered bike storage, shower facilities and electric vehicle charging stations support low-impact transportation. Native landscaping thrives in the Lehigh Valley environment without chemical fertilizers.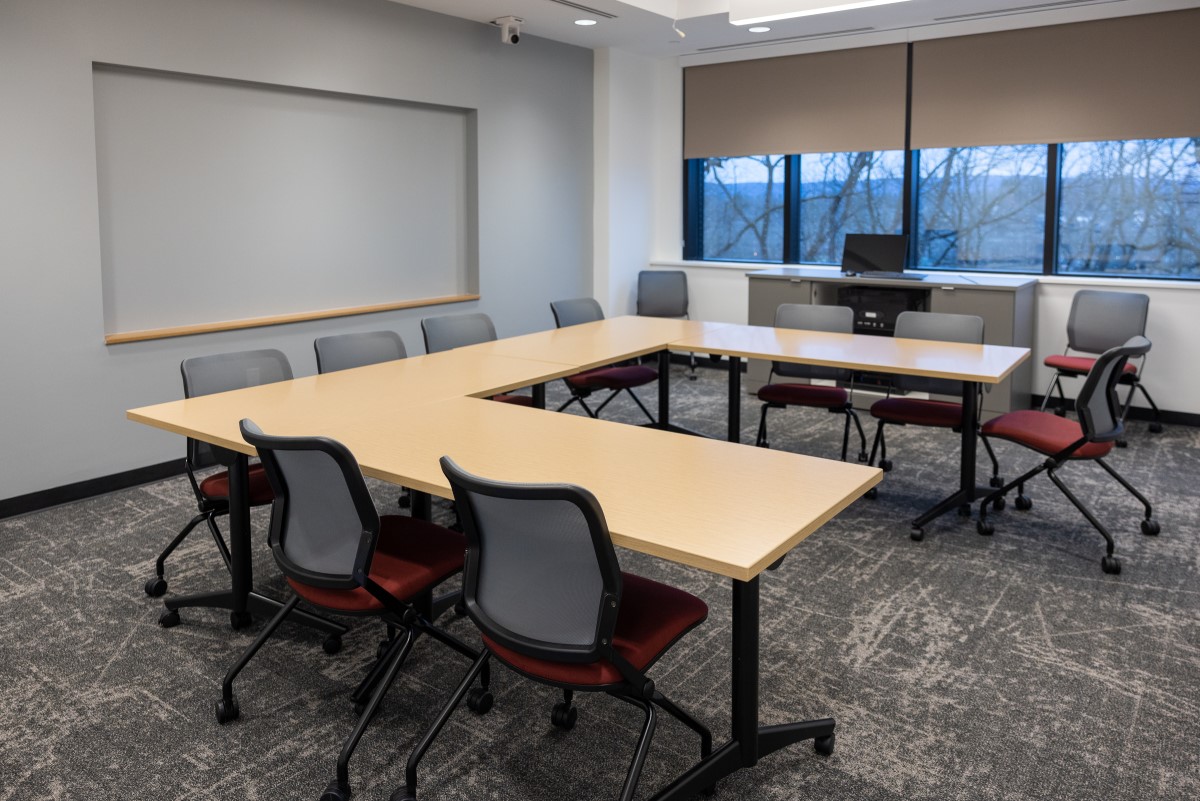 ROOM TO COLLABORATE
Shared spaces include conference rooms, presentation forums, three terraces that double as outdoor classrooms and a wing of enhanced art studios.
A maker space—a collaborative innovation laboratory—is open to the entire campus community so students can transform their entrepreneurial ideas into functioning prototypes.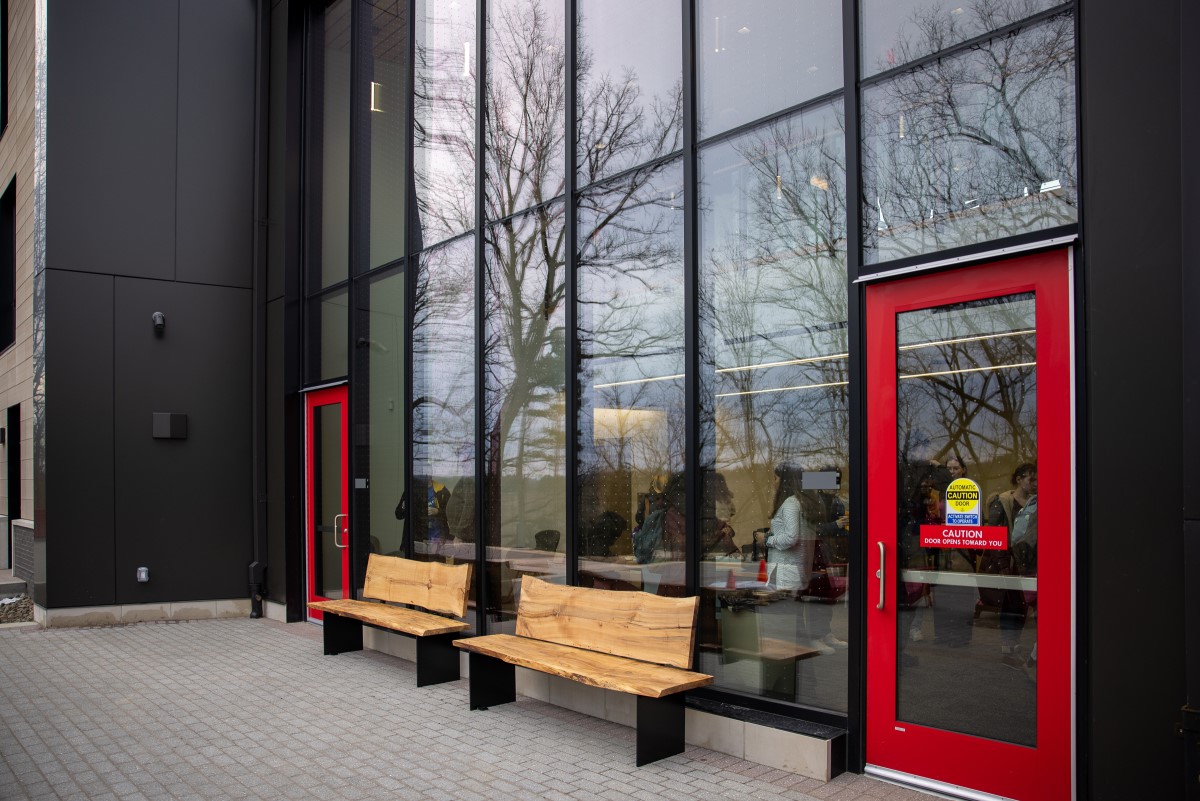 LIVING LABORATORY
The Fahy Commons Building is one of the most environmentally sustainable buildings in higher education. This innovative living laboratory visibly highlights sustainability for students and community members, demonstrating the possibilities for living, learning and working in concert with our natural environment. The goal is to fulfill the College's need for more program space in a way that works in harmony with natural surroundings on campus.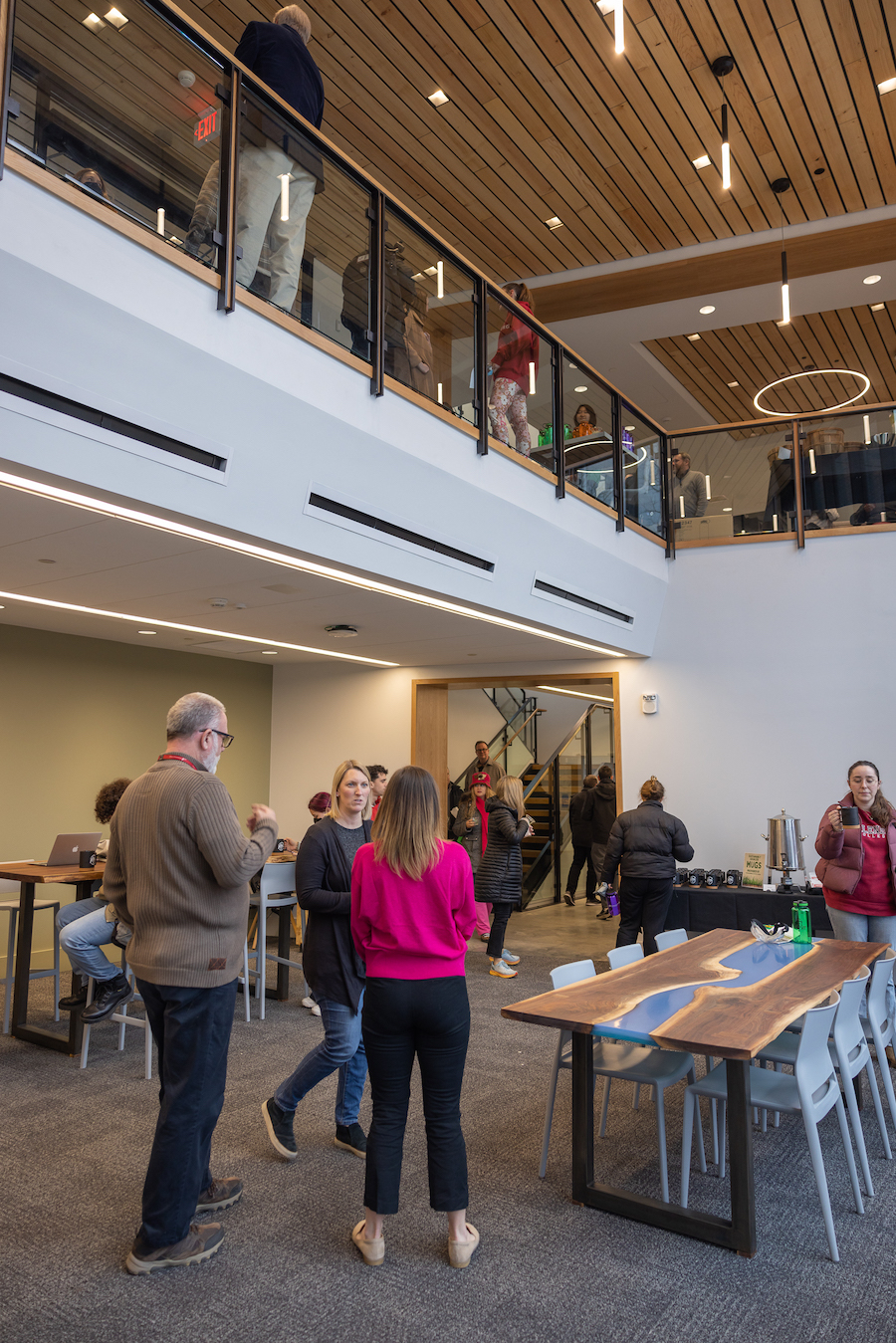 BOUNDLESS BENEFIT
The Fahy Commons for Public Engagement and Innovation supports Muhlenberg College's commitment to meaningful learning. The purposeful programs housed here on the south campus and the highly sustainable nature of this new building showcase boundless capacity to effect change and thrive in an accelerating, interconnected world, made possible through the generous $7.5 million gift by Gerald P. Fahy '79 and Cathleen A. Fahy in support of the Boundless campaign. This largest personal gift in Muhlenberg College history provides support for two priorities: The Fahy Commons for Public Engagement and Innovation and the Seegers Union expansion.