Muhlenberg Naming Ceremony Reveals Fahy Commons
The building was made possible thanks to a gift from Gerald P. Fahy '79 and Cathleen A. Fahy, the largest personal gift in Muhlenberg College history.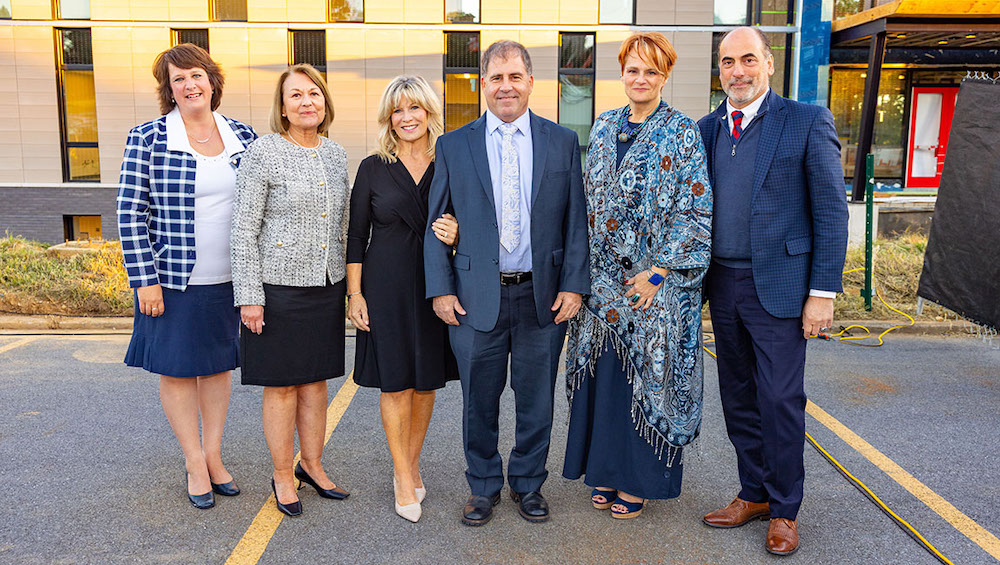 Left to right, Vice President for Advancement Rebekkah Brown '99, President Kathleen Harring, Cathleen A. Fahy, Gerald P. Fahy '79 and Boundless: The Campaign for Muhlenberg co-chairs Tammy Bormann '83 P'16 and Mark Paris '80 P'16 at the September 23 ceremony to name the Fahy Commons. Photos by Marco Calderon
On Friday, September 23, Muhlenberg College alumni, faculty, staff and students gathered at the site of the College's newest academic building for a ceremony that answered a question.
In 2020, Gerald P. Fahy '79 and Cathleen A. Fahy made a $7.5 million gift to Muhlenberg College that would provide significant support for two major capital projects: the development of a new academic building adjacent to Trexler Library on the south side of Muhlenberg's campus as well as the future expansion and enhancement of The J. Conrad and Hazel J. Seegers Union. At the time, the Fahys chose to remain anonymous.
Nearly two years later, the Fahys joined Muhlenberg College President Kathleen Harring, leaders of Boundless: The Campaign for Muhlenberg, members of the Board of Trustees, faculty, staff and students for a ceremony that acknowledged their contributions to Muhlenberg and officially named the new space: The Fahy Commons.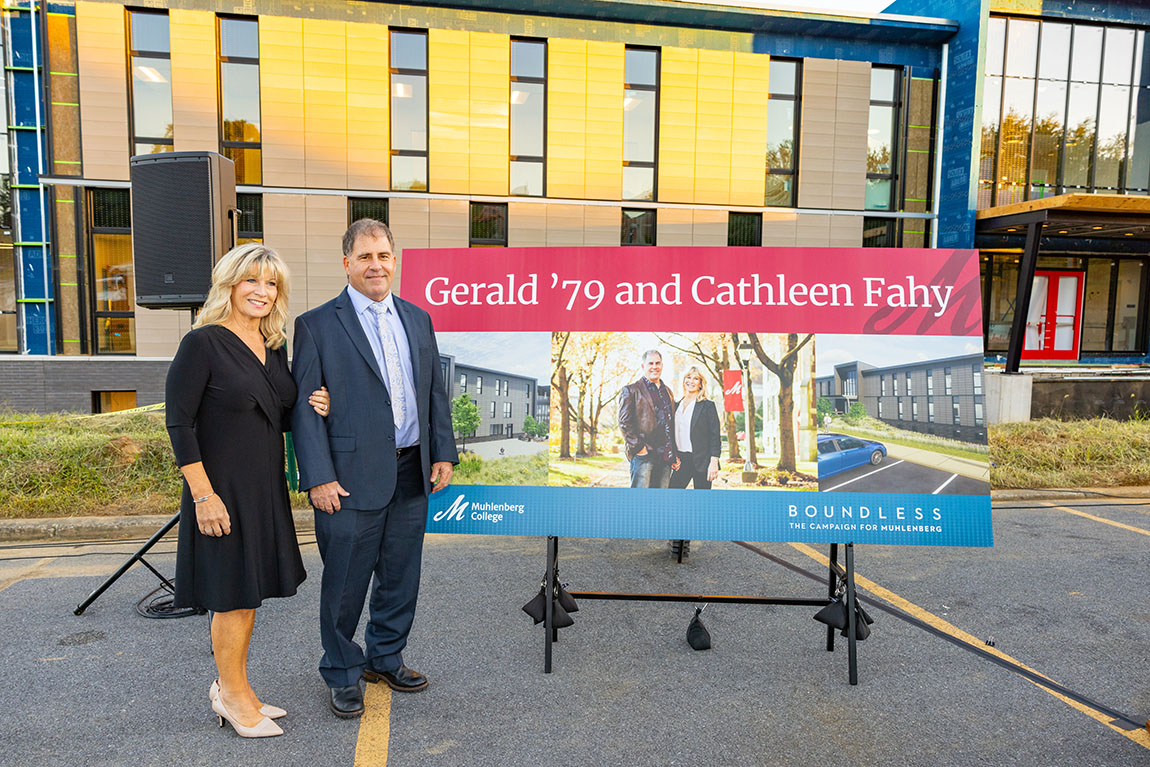 "The principles that guided the Fahy Commons' design align perfectly with our interdisciplinary approach to the liberal arts: inspire creativity and teach design; contribute to student, faculty, staff and community attraction and retention; build connections with others and social interaction; design a space that is flexible and adaptable; and promote physical and mental wellbeing," said President Kathleen Harring in her remarks.
The Fahy Commons will be a 20,000-square-foot, three-floor building featuring student program and academic spaces. It intentionally brings together programs designed to deepen engagement with the public and build opportunities for interdisciplinary innovation. The Schools of Graduate and Continuing Studies, the Office of Community Engagement, the Muhlenberg Institute of Public Opinion and the Innovation & Entrepreneurship Program, in addition to art studio spaces, will all be located in the Fahy Commons.
The new building will be one of the first buildings in the world expected to achieve the Living Building Challenge Core Green Building Certification, a rigorous sustainability standard by the International Living Future Institute. The Fahy Commons is also being built to pursue LEED Gold certification.
Muhlenberg broke ground on the Fahy Commons site in May 2021 — the first new building on the College's campus in 16 years — and a "topping-off" ceremony commemorated the placement of the final beam of structural steel that November. The building is scheduled for completion in December 2022 and will open to the Muhlenberg community for the Spring 2023 semester.
Thanking Gerald and Cathleen Fahy, President Harring led a toast: "Your support is a strong vote of confidence for our plans for the College, and you are setting the example for other alumni, donors and friends to step forward and follow in your footsteps through their own philanthropy and gifts to Boundless: The Campaign for Muhlenberg. Through your generosity, you are forever linked to the College, and we couldn't be more thrilled about that."
During the ceremony, Gerald Fahy said, "We were particularly drawn to be able to support the building's functions to facilitate students to be innovative, creative, entrepreneurial inventors and artistic while fostering community engagement and activism. Today's ever complex and rapidly changing world requires that. We are providing the resources that step up our efforts to meet these challenges." In concluding, he said, "Let this building serve our college and community to meet those needs."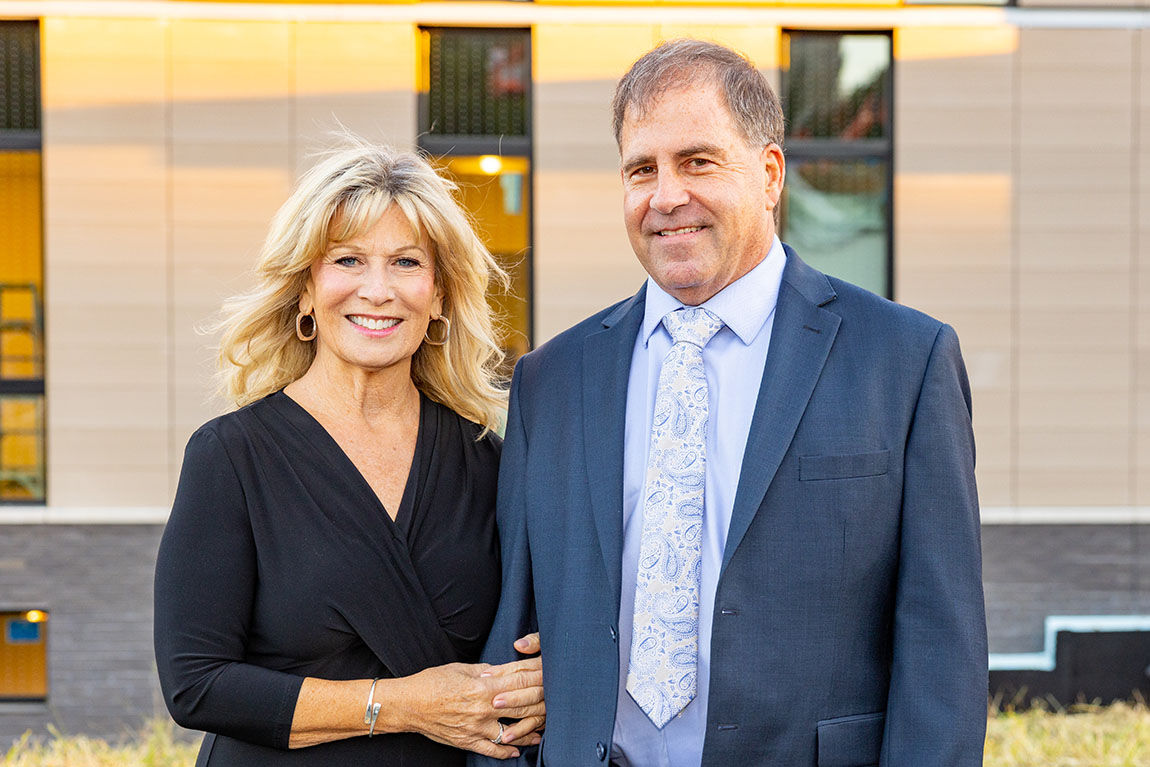 Gerald Fahy was raised in Parsippany, New Jersey, and attended Morris Catholic High School. He was recruited to Muhlenberg by the late Frank Marino, beloved football coach from 1970 to 1980. Gerald was a running back on the Muhlenberg team, and his accomplishments include a 1977 game against Johns Hopkins University, where he rushed for three touchdowns and 200 yards. He says that he draws the most satisfaction from having been an effective blocker as a fullback.
His other campus activities included membership in the Alpha Tau Omega fraternity, where he eventually served as president. He enjoyed leading and building connections between the brothers and their varied academic, cultural and athletic interests.
In 1979, Gerald graduated from Muhlenberg with a degree in business administration. Shortly after he completed his degree, he began working in the construction business. He founded and owns Kenvil United Corp, an organization that specializes in installing steel, precast concrete and cranes for multi-story and high-rise buildings.
Gerald and Cathleen have owned and operated their construction company for more than 42 years. While working, Cathleen cared for their four children, and now, their seven grandchildren. Prominent building projects have included the Statue of Liberty Renovation and Museum and the construction of hospitals, colleges, schools and public and private multi-story buildings in New Jersey, New York and Pennsylvania.
Following the toast, attendees continued to the College's annual Evening of Distinction gala, where the Fahys were recognized for their gift as an example of alumni and donor commitment to the College.