Muhlenberg Receives Major Gift, Announces Dedication of Burkholder Quadrangle
The gift by Drs. Thomas O. Burkholder '70 and Judith A. McDonald Burkholder '71 will support a number of initiatives, including scholarships for underrepresented students seeking a career in medicine.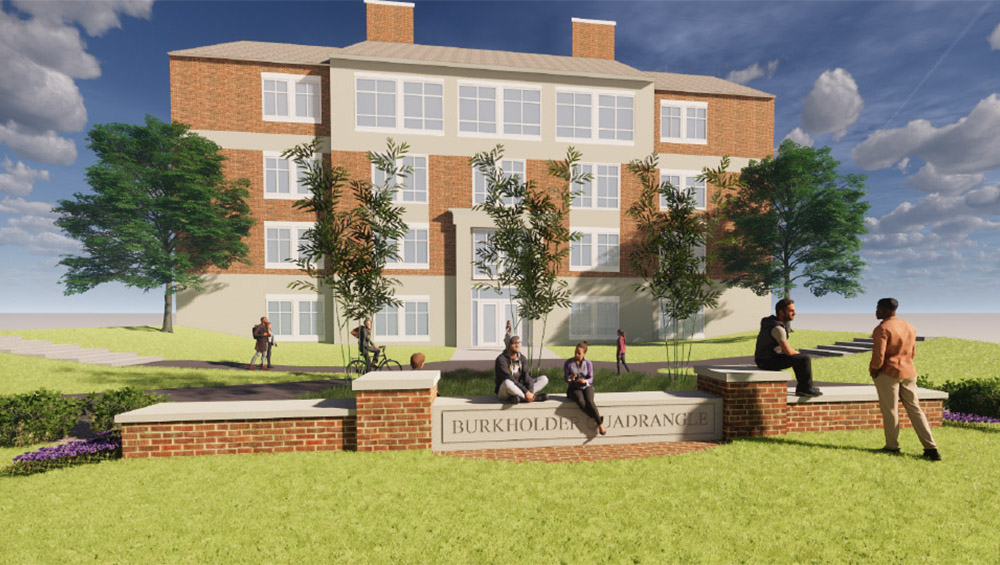 An architectural rendering of the Burkholder Quadrangle seating area. Rendering by Brown Design Corporation, Allentown, Pennsylvania.
Muhlenberg College has been named the recipient of a major gift by alumni Drs. Thomas Burkholder '70 and Judith McDonald Burkholder '71. The Burkholders have allocated a substantial portion of their donation to provide financial aid for premedical students who are residents of the Lehigh Valley and who come from traditionally underserved populations.
"Privilege is a very real thing," says Thomas Burkholder. "A lot of people don't have the chance to attend college or to attend and graduate medical school. Hopefully, this gift will enable some people to fulfill that dream."
The Burkholders' gift will also be used in support of an expansion to Seegers Union that will provide additional space for preprofessional advising and the Career Center, among other improvements.
"I chose Muhlenberg [for my undergraduate studies] because of the College's reputation for medical school admission," says Judith Burkholder. "The premed education that Muhlenberg has provided for decades is excellent, and medical schools were aware of their rigorous program and the quality of the student graduating from Muhlenberg."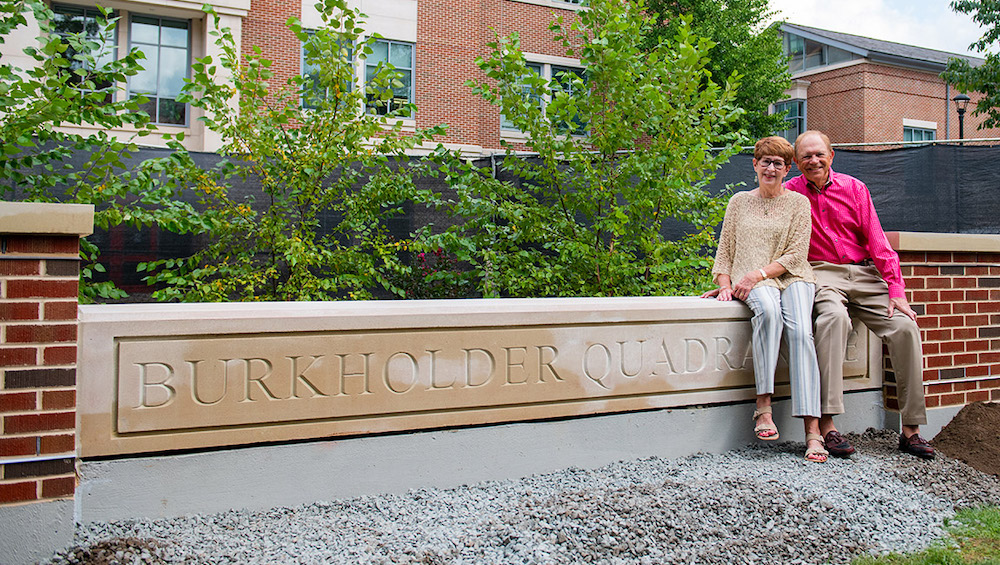 Pictured: Judith and Tom Burkholder sit beside the newly placed sign naming Burkholder Quadrangle on Muhlenberg's campus.
The Burkholders credit Muhlenberg's faculty and academic curriculum for their success in applying to and completing medical school; they both point to challenging undergraduate coursework that gave them significant head starts in their doctoral study.
Thomas and Judith Burkholder both earned degrees in natural science from Muhlenberg College. Thomas attended Temple University School of Medicine and Wills Eye Hospital, retiring after a career in ophthalmology in Allentown. Judith attended Hahnemann Medical College, now Drexel University College of Medicine, and retired after a career as a physician specializing in internal medicine.
In recognition of the gift, Muhlenberg dedicated the Burkholder Quadrangle this spring; a seating area and landscaped garden that occupies the area formerly known as the Brown Mall, an area that Thomas describes as a "quintessential college gathering space."