Providing Scholarships for Real-World Learning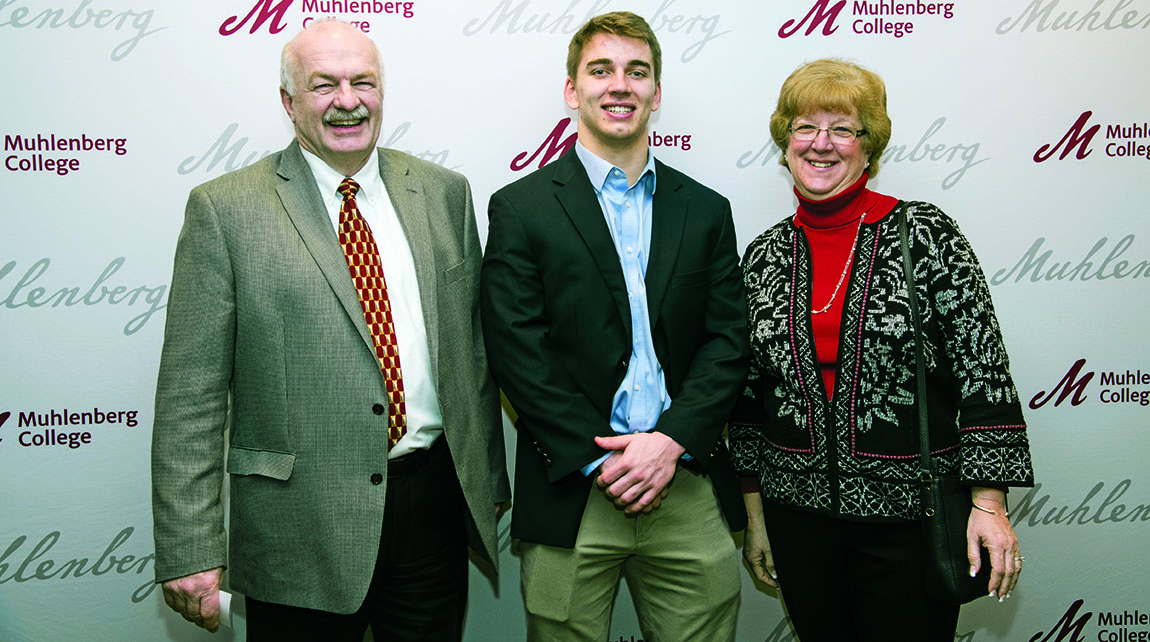 From left: Bruce Bird '77, Nancy Walsh Bird '77 Memorial Scholarship recipient Spencer Kirin '21 and Lynn Bird.
Being taught how to learn while a Muhlenberg undergraduate was a catalyst of Bruce Bird's, Ph.D., professional adaptability during an enriching and ongoing 30+-year career in the pharmaceutical industry. The Muhlenberg College Board of Trustees member values his liberal arts education that encouraged him to figure things out on his own and determine solutions.
"So much of education is rote memorization," says Bruce, who earned a bachelor of science degree in chemistry in 1977 and continued his education at the University of Pittsburgh, where he earned a Ph.D. in biochemistry. "If you have a good memory, you do okay, but that doesn't work in the real world, and it didn't really work for many of my classes at Muhlenberg."
Determining one of the solutions to a real-world problem that he solved during his 24-year career at Pfizer was helped by an experience that he had as a Muhlenberg first-year student working on a water quality project. While at the pharmaceutical giant, he was tasked with finding out why a drug that was created and produced in the company's Connecticut facility could not be replicated in Puerto Rico. He discovered that the calcium level in the water was too high on the island and that a water softener would solve the manufacturing issue.
"I think I am where I am financially … career wise … whatever … because Muhlenberg gave me that basis. I feel it is important to pay it forward for other students to be able to have those same opportunities and, hopefully, have the same outcomes or the outcomes they choose," says Bruce, who would not have been able to attend Muhlenberg without financial support. With an average of nearly 94 percent of Muhlenberg students receiving institutional aid, Bruce wanted to provide talented students with access to the excellent undergraduate education that continues to serve him. In 2010, he established the Nancy Walsh Bird '77 Memorial Scholarship endowed fund in memory of his first wife, whom he met freshman year. Recently, Bruce enriched the scholarship with a bequest gift, thus joining Muhlenberg's Circle of 1848 Society for making a planned gift to the College. Bruce's generosity has also benefited the Muhlenberg Fund, the Alumni Trust Fund and athletics, and he is a member of every Muhlenberg giving society.
"Thanks to the generosity of Dr. Bird, I have been able to live out my dream of playing college football for four years," says scholarship recipient Spencer Kirin '21, a math major and computer science minor. "Without it, I would not have had opportunities such as traveling to Italy with the football team, completing a research project on NBA statistics and many more experiences that I have had throughout my time at Muhlenberg. I am forever thankful for it."
A longstanding volunteer to Muhlenberg prior to joining the board in 2019, Bruce received the Muhlenberg Alumni Achievement Award in 2012 for serving as a member of the President's Advisory Council, the Alumni Advisory Board and his Class Reunion Committee; hosting Berg on the Beach; and providing advice to students through the Muhlenberg Network. In addition, he has volunteered for more than 30 years with The ARC of Essex, New Jersey, a nonprofit organization that supports individuals with intellectual and developmental disabilities.
Learning Brings Opportunity
Starting his career as a scientist at Schering Plough Corp., Bruce joined Pfizer in 1986 and observed and absorbed different sectors of the business and transitioned into various positions in product development, production and manufacturing technologies. As director of product development, he worked on development of Pfizer's first billion-dollar product, Procardia XL for high blood pressure, and as production manager, he helped to launch medications such as Viagra, Zithromax and Aricept, a cognition-enhancing drug used for the treatment of dementia. He was also integral in launching the innovation initiative within the company's global manufacturing organization.
In 2012, Bruce founded Bird Pharma Consulting and continues to contribute his industry expertise to transfer products from a pilot scale to full commercial release after FDA approval. His first consulting project involved working with major pharmaceutical companies, contract manufacturers and product development firms to help design a pharmaceutical manufacturing facility.
"I'm not an architect. I'm not an engineer. I know the layout of facilities and how they work best from a manufacturing experience," says Bruce, who learned the industry by keeping an open mind and trying new things.
Bruce's advice to Muhlenberg students starting their careers is to not limit themselves to just an area they think is good for them. They should keep their eyes and ears open to what is happening around them.
"Be a sponge … learn everything. You never know when that will pay off and create opportunities."